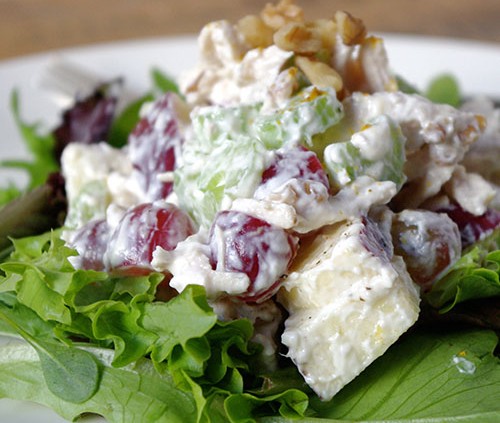 This is my go-to healthy recipe for Waldorf Salad. I cut the calories and fat almost in half by using non-fat greek yogurt as opposed to mayonnaise. This is a great trick that you can carry over into other recipes! My recommendation is to triple this recipe so you have it on hand for several meals. It will hold up great in the refrigerator. Serve over romaine or butter lettuce and you've got a super yummy salad that will keep you full for hours!
Ingredients:
1/4 cup Fage Total 0% Plain Greek Yogurt (or your favorite fat-free Greek-style yogurt)
1/2 teaspoon orange juice or lemon juice
1 chicken breast
1/2 tart green apple, peeled, cored, and sliced small
1 stalk celery, cut into small pieces (optional)
1/2 cup seedless grapes, halved
1/4 cup dried cranberries or golden raisins
10 toasted raw almonds
Directions:
In a small bowl, whisk the yogurt and orange/lemon juice. Set aside. Then in a skillet, bring 2 inches of water to a boil. Add the chicken, reduce the heat, and simmer for about 8-10 minutes. Do not let the chicken boil or it will get tough. Cool the chicken and cut into 1 inch chunks. Make sure chicken is cooked all the way through and is not pink in the center. Combine with the apple, celery, grapes, dried cranberries/raisins, and almonds. Give yogurt mixture another stir, then pour over chicken. Toss all of the ingredients and chill for at least 1 hour.
Makes 2 servings.
Per serving: 220 calories, 19 g protein, 26 g carbohydrates, 5 g total fat, 2 g dietary fiber, 94 mg sodium.
Don't forget to let me know how much you enjoyed this recipe by leaving a comment!
~ Chalene Johnson
https://activeairpurifiers.com/wp-content/uploads/2015/12/Active_Heathly_Lifestyle_Wardolf_Salad.jpg
500
500
Diana Hoffman
https://activeairpurifiers.com/wp-content/uploads/2015/12/Active_Healthy_Lifestyles_Logo.png
Diana Hoffman
2015-12-23 14:37:56
2017-11-13 18:17:22
Healthy Waldorf Salad