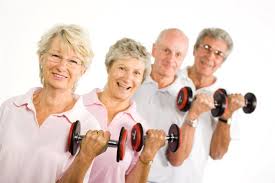 So you think you can be healthy without exercise.  That's what we want to believe.  No work and "voila" we are feeling good.  If it were only that simple.  Have you looked around you when shopping, attending sporting events, at restaurants, or just at your family gatherings.  What do you observe?  Now I know that it is unkind to judge others.  So let's just look at yourself.  Ouch!  For some of us this could be a not-so-happy experience.
Being healthy is sometimes
a boring subject.  We don't want to talk about it.  We dismiss the little voice in our head that warns us we are about do to something unhealthy.  For some of us, we don't even hear that voice anymore.  We just bound forward and do what we want to do and the heck with the consequences.  And for others we hear that voice, do it anyways, and then feel guilty.  This unhealthy emotion takes its toll on our mental and physical health.  Here we are talking about "being  healthy" again.  So whether we want to admit it or not, the way to being healthy is and always will be a part of our lifestyle.
My mom who is 96 is living at Primrose in Marion, Ohio.  This is an assisted living group of apartments with 24 hour care available.  Her name is Mary and she is still doing exercises.  Mom is wheelchair bound.  You can ask her.  If you stop working on the muscles, you lose it.  She goes into the bathroom and holds on to the bar rails and does stand ups.  While sitting in her chair she lifts one leg off the platform or floor.  She alternates legs.  Another exercise is leg extensions.  We are able to transfer her from the wheel chair to her adjustable recliner.  With her ability to stand, it makes this maneuver much easier to do.  Mom's fingers are getting weak.  It is important for her to be able to control the knob on the power chair.  She wants to be independent.  Eating is also a challenge.  We kids go in and help her eat.  She has been doing some finger and hand exercises.  She is now receiving occupational physical therapy.  What some people don't know is once you begin no longer showing improvement, that program stops!  Who is responsible now?
Yes, it is you.  You know deep down that you want to live a happy, independent life and not be a burden to anyone.  A question you need to ask yourself is how you want to be functioning as you reach "Senior Citizen" status.  I'm still in denial about that.  My mom and I are both senior citizens.  We do laugh about that.  And we're both on Medicare!  How do you want to be when you turn 45, 50, 60, 70 and even 90 years young?
Yep, you w
ant to be able to do everything you could do when you were 40 and in our minds 30.  When I chat with the other residents at Primrose they often share what they did in their younger years and in their mind they think young and in the mirror they realize the cycle of life is happening ready or not.   So back to the age old discipline of exercising.  "If it ain't fun, it must be good for us."  Exercise does not have to be labor intensive or boring.  It is what you make it.  There are many choices for you.  You can get a trainer, go to the gym, swim, walk, play sports.  If you want to stay home there is exercise equipment you can purchase for your home.  For many this is cheaper than a sports club membership and it is conveniently located, you don't have to worry about dressing up or how you look performing the exercises.  Besides the exercise equipment, there are many exercise programs on CD's.  You pop it in and there is your friend and you are exercising together.  You don't have to think.  Just imitate what that person is doing and "viola" you are becoming more fit a day at a time, a week at a time and a month at a time.
In conclusion, notice where you are today.  Make the decision to live a healthy lifestyle so that when you reach your 50's, 60's 70's and more, you will be able to live the life you want.  It takes action and self-discipline.  You have what it takes.  Now take the next step, contact me.  Together we can plan your exercise program.  I can be your accountability partner that you share your progress.  You are on the road to a healthier you.  Read the hints on this website and on our Face Book Page, www.facebook.com/activehealthylifestyles.com I offer exercise and nutrition hints that may be just what the doctor ordered.  Contact me today to start your plan to a healthy lifestyle.
Your Health Savvy Advocate,
Diana
www.beachbodycoach.com/DianaHoffman
www.ActiveHealthyLifestyles.com
Content Copyright © 2014  Active Healthy Lifestyles   Diana Hoffman
https://activeairpurifiers.com/wp-content/uploads/2015/12/Active_Healthy_Lifestyles_Logo.png
0
0
Diana Hoffman
https://activeairpurifiers.com/wp-content/uploads/2015/12/Active_Healthy_Lifestyles_Logo.png
Diana Hoffman
2016-02-10 19:30:31
2017-11-13 18:16:04
Looking Young and in Your 90's: It's Not a Secret Read more to find the answer